Transfer Malaga Sotogrande
MALAGA AIRPORT TAXI TRANSFERS FROM MALAGA AIRPORT TO SOTOGRANDE
We are a Malaga Sotogrande taxi company that specializes in airport transfers to your destination. We guarantee maximum punctuality to avoid delays and waiting at the airport, which is particularly useful if you want to get to your destination quickly.
We also provide return journeys from your location in Sotogrande to Malaga airport, so you can hire our services at any time. Contact us to enjoy a pick-up service at the airport without any waiting. We will take you to your destination quickly and comfortably, ensuring a satisfactory experience.
Personalized Transfer Service in Sotogrande
PREMIUM SOTOGRANDE TAXI SERVICE FROM MALAGA AIRPORT
Our premium Sotogrande taxi service is available 365 days a year, including weekends and public holidays, to ensure full availability. Whether you are arriving or departing, you can always access our services to ensure a comfortable and enjoyable journey during your vacation or business trip.
We are a leading transfer company in the sector that can transfer you in any situation, whether you are traveling alone, with family or friends, or even in tour groups. With our excellent Malaga-Sotogrande taxi service, we have a varied fleet that allows us to adjust to the number of passengers, ensuring a comfortable journey at all times. We also have approved child seats so that the youngest members of the family can travel in complete safety.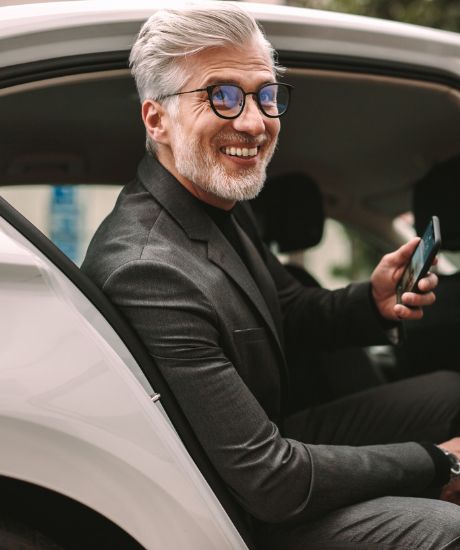 365-Day Taxi Services to and from Sotogrande
Transfers to Sotogrande all year round
We know that waiting at the airport can be tedious, which is why we provide a premium Malaga Sotogrande airport taxi service, and our drivers will pick you up without any delay. Additionally, they will have an identification sign so that you can find them quickly. In case of a delay or an early flight, you won't have to wait for us because we monitor all flights. By doing this, we know exactly when you are going to land at the airport, so we can transfer you to your destination. Our drivers guarantee a safe transfer thanks to their efficient driving and knowledge of the most recommended streets to reach your destination in less time.
With our Sotogrande Malaga taxi service, you can rid yourself of the worries of arriving late to your destination, which is particularly useful in the case of business travel or when you need to get to your accommodation as quickly as possible. Our drivers have many years of experience and offer other transfer services such as Malaga Mijas transfer. All our staff maintain a friendly and professional manner, so your travel experience will be the best. Likewise, when you finish your business or leisure trip, we will take you to the airport with the same speed, comfort, and safety.
Attention available 24 hours a day
At our 24-hour transfer service from Malaga Airport, we can ensure that we adapt to your schedule. No matter what time you arrive at the airport or need to go to the airport, we can transfer you as quickly and efficiently as possible.
We work around the clock so that you don't have to resort to the option of traveling by taxi, which can be expensive during those hours. Meanwhile, public transport is not available late at night or in the early hours of the morning.
Moreover, by booking a taxi service from Malaga/Sotogrande airport in advance, you will be sure to have a driver ready to take you to the airport.
We are the best professionals with competitive prices. Therefore, we can transfer you to the airport, whether you are alone, with your family, or a large group, in adapted and comfortable vehicles, without the cost being exorbitant.