Costa Sol taxis transfers
AIRPORT TRANSFER FROM
MALAGA AIRPORT TO
MIJAS
We offer the best transfer services in Malaga Mijas, guaranteeing maximum punctuality, comfort, safety, and the best prices. At Costa Sol Taxis, we take care of your pick-ups and transfers to and from Malaga airport, providing you with fast and safe transportation between Malaga airport and Mijas.
Our taxi and transfer services are available throughout the Costa del Sol area, starting from Malaga airport. You will easily recognize us upon your arrival at Malaga airport as we will be holding an identification sign.
Moreover, we keep ourselves constantly informed and alert about your flight's schedule and route, so we can arrive at the airport right on time, without any waiting or delays. Our aim is to provide a high-quality transfer service that meets all our customers expectations when traveling to Mijas from Malaga airport.
Personalized Transport Service
After picking you up from Malaga airport, one of our professional drivers will take you to your desired location in Mijas. We strictly comply with all current safety regulations during our trips.
With Costa Sol Taxis, you can always count on safe journeys, ensuring a worry-free trip. Our taxi service is characterized by punctuality and transparency. Our goal is to provide you with maximum comfort during your journey to Mijas.
Our taxi and transfer service from Malaga to Mijas is professional and committed to ensuring customer safety. You can always have peace of mind with us, as we will pick you up from the airport and take you directly to the doorstep of your accommodation in Mijas.
We have been endorsed by many satisfied customers with our Malaga-Mijas airport transfer services, standing out for being punctual, safe, and affordable.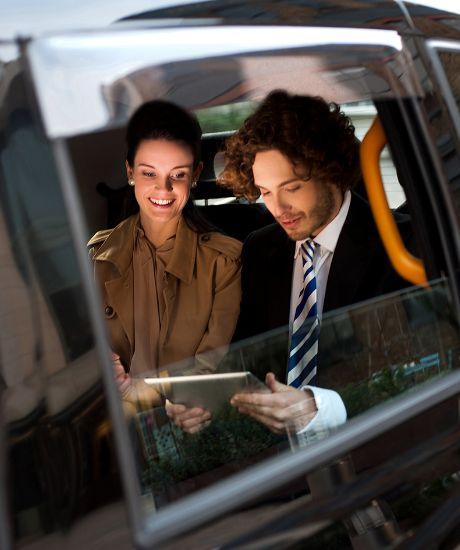 24 hour transfer from/to Malaga Airport
Costa Sol Taxis is a leading company in transfers to/from Malaga Airport. We provide our clients with a transfer service to and from Malaga airport with total availability 24 hours a day, 7 days a week, including holidays. We want to be there whenever you want to make a transfer from Malaga Airport to Mijas
At Costa Sol Taxis, we make no excuses. That's why we don't care if your flight leaves the airport, or arrives, in the early hours of the morning, on a public holiday, or at Christmas. We are always available to offer you the best professional transfer service from Malaga airport, no matter what day of the year it is. If there is something that sets us apart from other transfer companies, it is that we have more than ten years of experience in transfers from Malaga Airport. This has allowed us to offer a transfer service that adapts to all our clients and to any type of trip: family, business, group, etc. Regardless of your travel circumstances, from Costa Sol Taxis we will always respond with the best private transfer that suits your pocket.
We will drop you off at the address of your accommodation or hotel in Mijas, so you don't have to worry about lugging your suitcases back and forth. At Costa Sol Taxis we want to help you as much as possible. That's why we will also take care of loading your luggage into the boot. All you have to do is enjoy the journey to and from Malaga Mijas airport.
Malaga - MijasTransfer Service is available 24/7
Our goal is to provide quality service and customer satisfaction. To achieve this, we offer a transfer service that is tailored to your needs. We offer private transfers from Malaga airport to Mijas, as well as transfers in vehicles that can accommodate up to 8 people for group trips with friends or colleagues, or buses with a capacity of up to 19 people for group trips or routes.
We are available at any time of the day, whenever you need us. We are experts in 24-hour transfers to and from Malaga Airport. If you would like more information about your transfer, please complete the following form and we will provide you with a quote.