Costa Sol taxis transfers
TRANSFER MALAGA AIRPORT
TO/ FROM
MARBELLA
Costa Sol Taxis offers you a transfer service from Malaga airport to Marbella. The transportation is carried out by professional drivers who will take you from Malaga airport to Marbella. In addition, we offer our transfer service in each of the cities from Malaga airport, specifically covering the whole area of the Costa del Sol.
We will be waiting for you at the Malaga airport with an identification sign so that you know that we are the ones waiting for you. In addition, we will constantly monitor your flight so you will not have to worry if it is delayed or early, as we will be informed at all times and we will come to pick you up immediately when you get off the plane.
Personalized Transport Service
For our transport service from Malaga Airport to Marbella, we provide you with a team of professional drivers who will make the journey a safe, comfortable and pleasant one. We want you to travel without worries. Therefore, we will provide you with a punctual and professional transfer service. You will not have to worry about anything, neither during the flight to Malaga nor during the transportation to Marbella. We will guarantee you the maximum comfort during your journey.
We offer a professional and transparent transfer Malaga-Marbella service. In addition, we want you to have the peace of mind of knowing that we will pick you up at the airport and take you to the point you specify in Malaga. You can make your transportation to/from the airport with us, always with the peace of mind of knowing that you have hired a professional transportation service at the best price.
We provide our clients with the best transfer Malaga Marbella, guaranteeing maximum punctuality, comfort, safety and the best price. We take care of everything so that you simply enjoy your trip.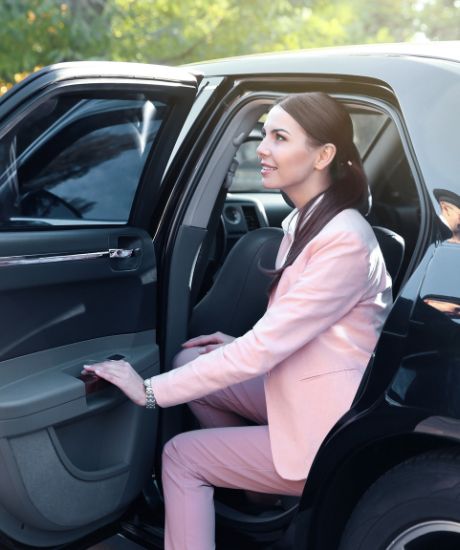 24 hour transfer from/to Malaga Airport
TRANSPORTATION MARBELLA - AIRPORT
At Costa Sol Taxis, we can provide a transfer service to/from Malaga airport available 24 hours a day, 365 days a year. We will pick you up at Malaga airport and take you to Marbella or vice versa whenever you need it.
No matter what time it is, if it is in the early hours of the morning or if it is a holiday, we are always at your disposal so that you can count on the guarantee of a professional transport service that will pick you up and take you from/to Malaga airport 7 days a week, 24 hours a day, at any time of the year.
We are an experienced transfer company on the Costa del Sol with more than a decade of experience in providing transportation to/from Malaga airport. If you have a family or business trip and you need us to pick you up in Malaga and take you to Marbella, do not hesitate to contact us.
We will take you to the door of the destination address you specify. In addition, we will also help you with your luggage so you don't have to worry about anything. We are professionals specialised in transportation to/from Malaga and Marbella airports, as well as the entire Costa del Sol.
Our top priority is to always guarantee the best services and the full satisfaction of our customers. That is why we adapt completely to you and your trip. Not only do we offer private transportation from Malaga airport to Marbella, but we also provide vehicles for up to 8 people, for trips with friends or company trips, as well as buses for up to 19 people, for routes or group trips along the Costa del Sol.
Transfer Service from Malaga - Marbella available 24/7
We can provide a transfer to/from Marbella  and Malaga airport which is at your disposal all year round. We will pick you up wherever you indicate and drop you off at your destination at the time you tell us. We provide a door to door service which always guarantees our punctuality, as well as your arrival at your destination on time.
In addition, our transfer services Malaga-Marbella have a fixed rate and a fixed price. We always work with the best prices and without additional costs or expenses. We want the customers to be always satisfied and there are no surprises at the time of payment. We are a professional and transparent transport company that guarantees the maximum security and comfort in transportation, as well as the best price.