Transfer from Malaga to Fuengirola
Costa Sol taxis transfers
AIRPORT TRANSFER FROM MALAGA AIRPORT TO
FUENGIROLA
Airport Transfer from Malaga airport to Fuengirola, we offer you the best service in comfort and safety. Costasol taxis offers a reliable, punctual and diligent service. The trips are carried out by professional drivers who guarantee maximum peace of mind during the journey. Transportation service from the Malaga airport is available to all the cities of the Costa del Sol, including Fuengirola.
Our driver who specialises in transportation to and from Malaga airport will be waiting for you there with an identification sign, so that you will be able to recognise us immediately; no delays. Our team of specialists are punctual and professional, and offer you an impeccable service. Regardless of whether your flight is early or late, we are always on hand to help you with your journey to your destination once you have landed.
Fuengirola Transfer Service
PRIVATE TAXI FROM FUENGIROLA TO MALAGA AIRPORT
We offer you a taxi and a transfer service from Malaga airport to Fuengirola. Our team of professionals will guarantee you a quick pick up as soon as you get off the plane. On the other hand, if you want us to pick you up in Fuengirola and take you to the Malaga airport, you only have to tell us the time and place of pick up. We will be there and we will take you to the airport so that you arrive in time to pass the security control and catch your flight.
Our main objective is that you travel with us in a quiet and relaxed way, as well as a punctual and transparent taxi and transport service. We will pick you up at the door of Malaga airport and drop you off at the address in Fuengirola which you tell us. 
All our customers are satisfied with the transfer services we provide at Costa Sol Taxis from Malaga to Fuengirola. We are known for being a professional, fast, transparent, honest, safe and economical taxi company. We would like you to travel with the highest level of protection for you and your family.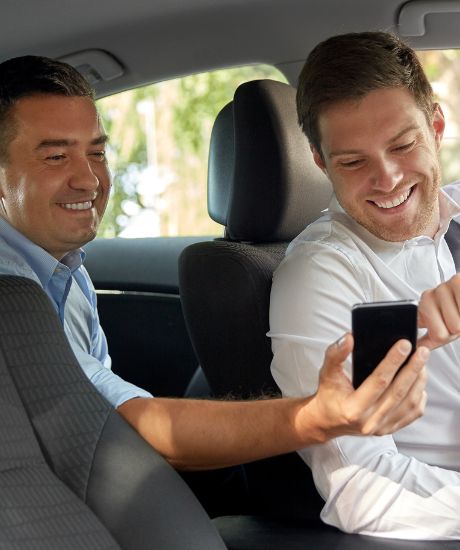 24 hour Transfer from and to Fuengirola
Malaga to Fuengirola Airport Transfers Services
At Costa Sol Taxis, we offer you a taxi and transfer service from Malaga airport that is available 365 days a year. We would like to guarantee you maximum satisfaction in all your trips from Malaga to the Fuengirolaairport. Therefore, we offer our services all year round. No matter the date, or if it is a holiday. At Costa Sol Taxi, we are always available to take you from Malaga to Fuengirola.
We are always at your disposal to provide you with Taxi and Transfer services from Fuengirola to Malaga (or vice versa) whenever you need it. Fly during your Christmas holidays without worries and hire the best Taxi services on the Costa del Sol from Costa Sol Taxis.
Malaga-Fuengirola Transfer Service is available 24/7
With more than 10 years of experience in providing transportation services from Malaga airport to different cities on the Costa del Sol. Our team of professionals therefore always adapts to the schedules and needs of the client; providing the best solutions and driving services. In addition, in order for you to travel with the greatest comfort, we will also help you with the handling of your luggage, or if necessary, we will also equip the taxi with standardised seats, in case you are travelling with young children.
Our aim is to provide the best taxi services from Malaga – Fuengirola airport to ensure the satisfaction of our customers and we adapt to the needs of the client. Our vehicles have a capacity of up to 8 people, so they are also ideal for business trips or trips with friends. You can also contact us for tourist trips for groups, we offer a bus service from Malaga to Fuengirola with a capacity of up to 19 people.