AIRPORT TAXI TRANSFER FROM MALAGA TO ESTEPONA
Airport taxi from Malaga to Estepona, always guaranteeing maximum punctuality and safety. Costasol taxis offers a reliable, punctual and diligent service. We also offer the reverse journey: from Estepona to Malaga airport. Our Malaga to Estepona taxi services are safe, punctual, professional and transparent. Our main objective is to guarantee your satisfaction and comfort, so that you can enjoy a comfortable journey without waiting. We provide airport taxi services from Malaga airport to all the cities of the Costa del Sol. 
Do you need a taxi service from Malaga / Estepona airport? Get in touch with us. Our Estepona- Malaga airport taxi transportations are always provided by a professional and experienced driver, who will meet you at the airport with a name tag. We want to offer you a pick-up at the airport without waiting, so that you can reach your destination in the most comfortable and quickest way possible, while always guaranteeing your safety. To do this, we will provide you with an excellent Malaga to Estepona taxi service. To achieve maximum efficiency, we will monitor your flight. We will pick you up at the airport without waiting, immediately when you land. Regardless of whether the flight is early or late, we will be informed at all times to start the journey to your destination once you have landed.
Personalised Estepona Transport Service
PREMIUM TAXI FROM ESTEPONA TO MALAGA AIRPORT
At Costa Sol Taxi, we offer a taxi and transport service from Malaga airport to Estepona. We provide all our clients with a punctual and transparent taxi service. You will be picked up quickly by our team of professional drivers, who will be waiting for you when you get off the plane. In addition, if you have already finished your holiday in Estepona, or your business trip, and you want us to pick you up and take you to Malaga airport, we also offer a taxi service Estepona-Malaga Airport. Tell us the street in Estepona where we have to pick you up and we will be there at the selected time. We also offer services in other cities such as Taxis Transfer Marbella.
Our Malaga-Estepona taxi service aims to guarantee you a smooth and safe journey. So that you can get rid of all kinds of worries, we have the best driving professionals at your disposal, with many years of experience in the sector. We are punctual and efficient in all our journeys. In addition, we always adapt to our customers and provide them with the best taxi and taxi services from Malaga airport to Estepona. With Costa del Sol you can hire your Taxi Malaga to Estepona service at a really competitive price.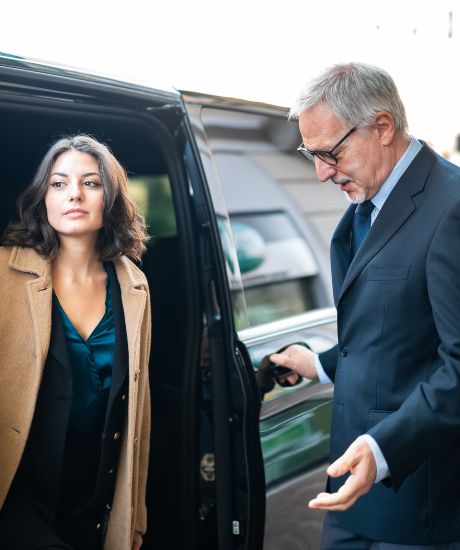 365 days a year taxis to and from Estepona
Malaga to Estepona Airport Transfer
At Costa Sol Taxis, we offer you a taxi service from Malaga airport to Estepona with complete availability all year round. That is, you can hire our taxi services Malaga-Estepona (and vice versa) at any time. We always offer you an immediate response 24 hours a day, every day of the week. At Costa Sol Taxi, we are always available.
We are a transport company with more than a decade of experience in providing transportation to/from Malaga airport to different parts of the Costa del Sol. As a leading company in the sector, we always adapt to our clients and offer them an individual and customised service for each situation. We carry out transfers from Malaga to Estepona airport for all types of trips: business, family, friends, tourist groups… We take care of the transportation of your luggage so that you can travel in total comfort and we will equip the taxi with approved seats so that the children are always protected.
Request a quote without obligation
We aim to provide the best taxi services from Malaga to Estepona airport and we want our customers to be always satisfied. We adapt to you and your schedule, and we offer a taxi service from Malaga Estepona airport available whenever you need it. We offer a private transport from Malaga airport to Estepona. We adapt to any situation and our vehicles have a capacity of 8 people, so they can accommodate a large number of people on a business trip or with friends. If you need more capacity during your trip, for example, for tourist trips in groups, we offer buses for up to 19 people. All our vehicles offer maximum comfort and safety for passengers.